Video is here and some folks in HR and recruiting are tapping into its power. You can too! Build online visibility and show what you know!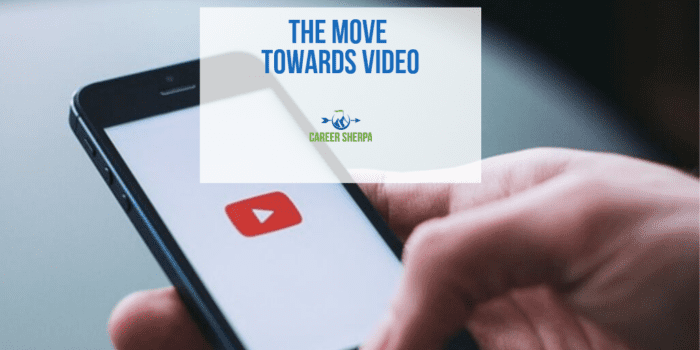 Quickly, let's take a look at the transformation in technology. First, there were newspapers, then radio, then TV, now the internet.  Every ad campaign has been switched online.
And video is a huge part of internet traffic.  Here are some stats:
Users view more than 1 billion hours of video each day on YouTube. (YouTube)
78% of people watch online videos every week, and 55% view online videos every day. (HubSpot)
75% of all video plays are on mobile devices. (eMarketer)
How Video Is Being Used
Recording used to require expensive cameras and editing software, but no longer. The power to record and edit resides in your pocket, literally! Your phone is all the technology you need to record, edit and share it!
Here are just some of the ways companies use it (and you can too)!
Explainer content
Presentations
Video blogs (vlogs)
Tutorials
Webinars
Ads
Customer testimonials
Interviews
Live streams
During Job Search
HR uses video to conduct interviews, either live via Zoom, Skype or recorded by special recruiting software. So chances are pretty good that you'll need to know how to perform in front of a camera. Read Are You Ready For Your Video Interview
Companies also use it to feature employees and provide a glimpse of the culture. They want you to see what it is like to work there.
For Personal Branding
The wonderful thing about video is that Google will find video posts more often than other content. YouTube is the second most popular site (only Google ranks higher). This means that if you upload a video with the right keywords, it's likely to show up higher in search results.
Go back through that list above and think about how you can film something you know how to do, interview people who are experts in your field or showcase your work.
Shows Your Style
Think about real estate today.  When I see a "for sale" sign in front of a house, I immediately go view it online.  There, I can easily view the interior and get a much better idea of what that house is all about.
Job seekers frequently tell me, "if I could only get in front of the hiring manager, I know I could prove I'm qualified."
Now you can!
For more help showcasing your personal brand, check out Use Video To Amplify Your Personal Brand.
The post The Move Towards Video. Are You Onboard? appeared first on Career Sherpa.